COMING EVENTS – 2017

| | |
| --- | --- |
| May 27/28 Concert 1 (Sat/Sun) | |
| August 27 (Sunday) | proposed Schools concert |
| September 17 (Sunday) 11.00am | Tulip Time |
| November 11/12 Concert 2 (Sat/Sun) | |
| December | Carols at Harbison (TBA) |
________________________________________________________________________________________________________
Around the World with The Southern Highlands Concert Band.
Around the World is a concert that brings together a range of music associated with a wide variety of people and places.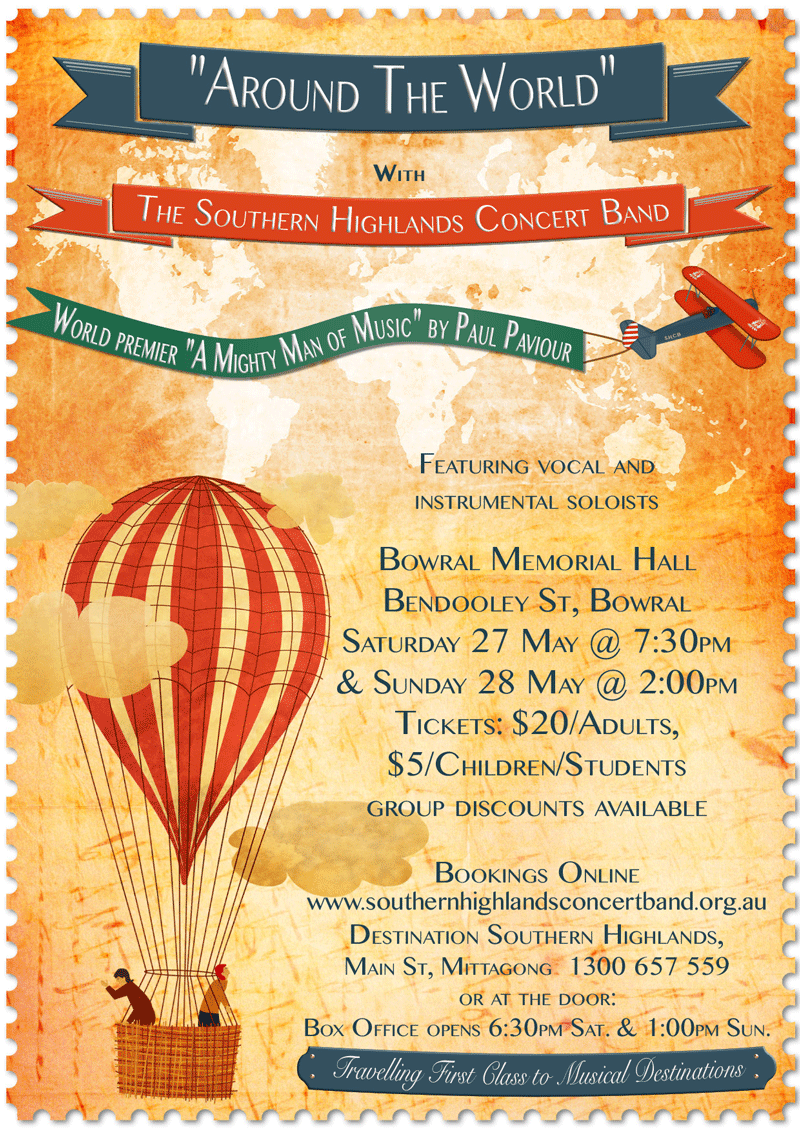 Our journey will take us through Europe to Australia, then on to the Americas, to Africa and then, eventually back to London.
The songs come from a variety of genres. Some are well known while some will be new experiences for many in the audience.
The highlight of the concert is undoubtedly Paul Paviour's A Mighty Man of Music, written as a tribute to our former musical director, Mike Butcher. Mike had a considerable influence on music making in the Southern Highlands and the band is honoured to be able to present the world premiere of this work as a part of this concert.
Paul Paviour is widely regarded as one of Australia's most versatile composers. Although best known, perhaps, for his choral compositions, he has written extensively for other ensembles and his output includes eight symphonies, five stage works, five concertos and about thirty orchestral works of some magnitude.